A BED - the B-SIDES
set design, stage installation
2009
Set Design 'OTHELLO' - Vienna, Bochum, New York 2009

- Wiener Festwochen 2009 - Vienna/Austria
- K-15 Festival 2009, Schauspielhaus Bochum/Germany
- New York Shakespeare Festival 2009, Public Theater New York

Directed by Peter Sellars
Scenic Design Gregor Holzinger
Costume Design Mimi O´Donnell
Lighting Design James F. Ingalls
Original Score, Sound Design Mark Grey
Associate Director Robert J. Castro
Dramaturgy Avery T. Willis

Roderigo Julian Acosta
Doge of Venice Gaius Charles
Desdemona Jessica Chastain
Emilia Liza Colón-Zayas
Montano Bianca Saidah Arrika Ekulona
Jago Philip Seymour Hoffman
Cassio LeRoy McClain
Othello John Ortiz


SCREENBED - THE B-SIDES
... or The stage as bedroom (again) - a set design for a staging with empty stage, concentrating the 'psychologicality' of space onto an over-surveillanced point – the bed.

INSTALLATION VIEWS / VIDEO SEQUENCES
The B-Sides | Program Note
[engl.]
A bed engulfed in a strange dream. The bed as a window projecting into space, into a blurred distance, an inscrutable parallel reality, abstract half-dreamscapes of a sleepless night.
An eye composed of many eyes, like the eye of a dragonfly, an eye that sees itself in itself, reflects itself, and the over-observed space of the bed.
World policy decided in bed, with mutual favors granted and called in.
The bed as an onstage stage, the bed as the actual stage, a stage on the stage - and the stage space around the bed as an undefined "something beside". The endless distance/'the elsewhere' interpreted, not as a linguistic construction but rather as a spatial universe, as different kinds of surrounding or interstitial spaces, to which abstract localities adjacent to reality itself are attributed, and parallel story lines/the "back-sides of the story", the alternative realities of multiple intrigues, infidelities and deceptions are taking place(-s).
The characters, lost on an empty stage, unable to withdraw from sight in the wings or backstage. The sides of the stage, usually spaces organized in a way to effectively avoid being seen, become spaces that permit vision behind/beside the actual scene, beside the space of the stage and thereby "besides reality"/behind the front kept up in the forefround.
The back of the bed as a continuation of the mechanical desert of the back and side stage zones with their techno aesthetics, with every detail referring to the stage and its very nature of being the "A-side", negating the intermediate space - a place between the back of the bed and the adjacent/peripheral areas of the stage, the "B-sides", a space where distance and eerie closeness coincide.
A surface of light clinging to the bodies and at the same time a precarious, inhospitable landscape.
[orig. deu]
Ein Bett, das in einen seltsamen Traum versinkt.
Das Bett als in den Raum ausgreifendes Fenster in eine unscharfe Entfernung, eine befremdliche Nebenwirklichkeit, abstrakte Halbtraumlandschaften einer schlaflosen Nacht.
Ein Auge, das sich wie das einer Libelle aus vielen, aus 45 Augen zusammensetzt, ein Auge das sich in sich selbst sieht, das sich in sich selbst spiegelt – und der überbeobachtete Raum des Bettes.
Weltpolitik, die im Bett entschieden wird, mit den gegenseitigen Gefälligkeiten und eingeforderten Gefallensschuldungen.
Das Bett als Bühne auf der Bühne, das Bett als eigentliche Bühne, der Bühnenraum um das Bett herum als undefiniertes Daneben, als 'Off' – die Ferne/das Daneben/das Woanders nicht als sprachliche Hilfskonstruktion, sondern als örtliche Gegebenheit/als Raum – verschiedene Arten des Daneben. Die Charaktere verloren auf einer leeren Bühne, ohne Möglichkeit, sich in den Rückseitenräumen des Bühnenapparates den Blicken zu entziehen – die Bühnenseitenwände, nur ausgelegt darauf, nicht gesehen werden, das aber dafür umso mehr, werden zu Sichtseiten.
Die Rückseite des Bettes als Fortsetzung der mechanischen Wüsten der Hinter- und Seitenbühnenwände mit ihrer technischen Ästhetik, in jedem Detail auf den Bühnenraum und dessen Schauseitenlastigkeit verweisend, der Raum dazwischen negiert - ein Ort zwischen der Hinterseite des Bettes und den Seiten- und Nebenseiten der Bühne, den es eigentlich gar nicht geben dürfte, in dem Ferne und unheimliche Nähe zusammenfallen.
Eine sich an die Körper anschmiegende Lichtoberfläche und prekäre, unwirtliche Landschaft gleichermaßen.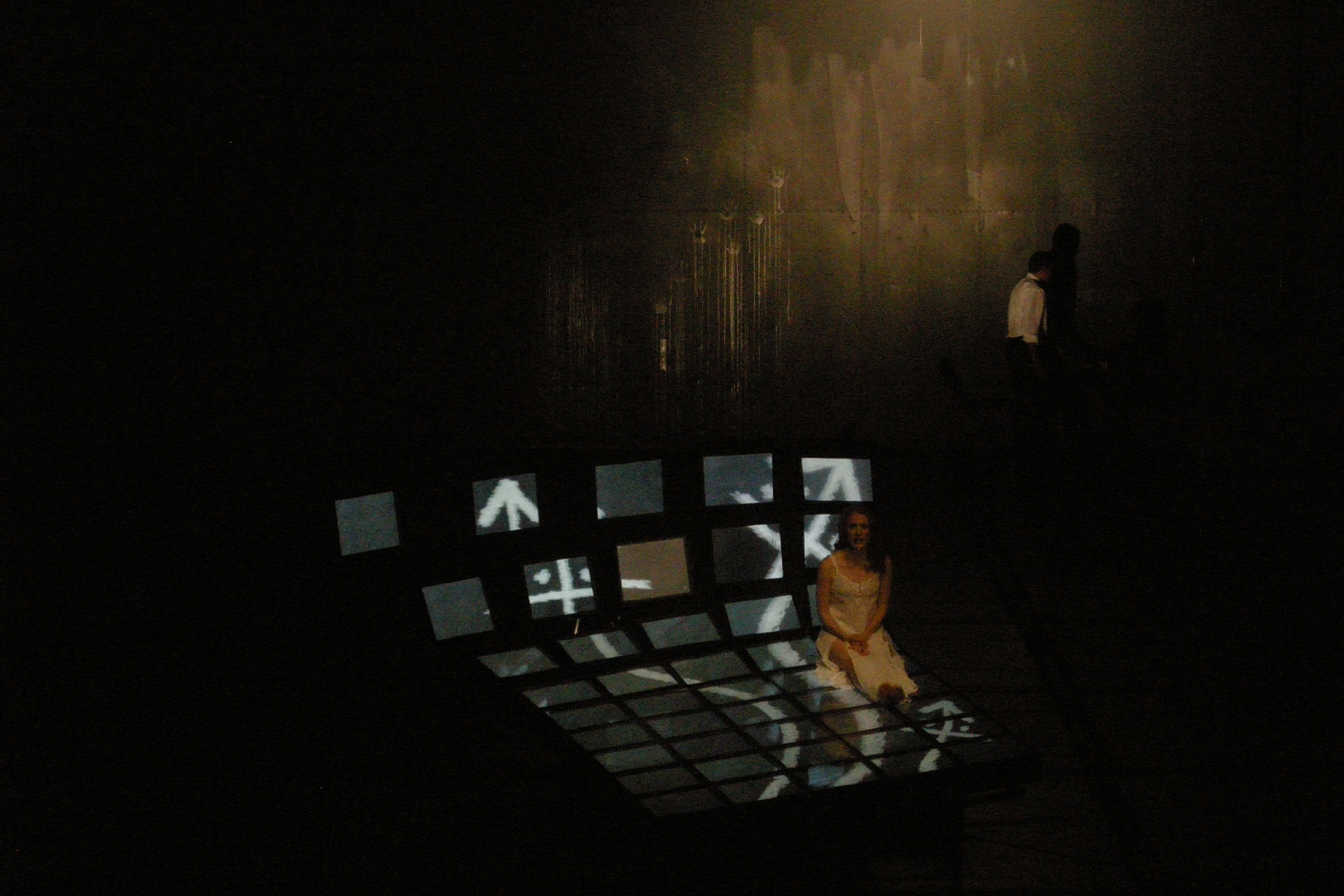 SELECTED SCENES - Rehearsals / Video sequences
Wiener Festwochen - Theater Akzent, Vienna | 05-2009
K-15 Theaterfestival - Schauspielhaus Bochum | 06-2009
PRESS on
'OTHELLO'
"Hard and soft, light and dark – minimalist but clear polarities are the hallmark of this production. The play gets off to an austere start. The naked black stage is dominated by a single prop: the bed on which Othello and Desdemona are lost in an embrace, is a bank of video monitors (Gregor Holzinger). The couple are entwined on a glassy incline, the monitors rising to a wall behind them. But what initially seems to be a newsroom or a commando HQ turns out to be a poetic oasis in martial surroundings. Colours and shapes from dreamworlds artfully dissolved into a puzzle, flicker across the screens. But engrossed in the intimacy of their love, the couple are dangerously vulnerable on this altar. Before the tragedy ends, it will be their grave. ..."
NZZ Neue Zürcher Zeitung / signandsight.com -
Barbara Villiger Heilig, 16. 06. 2009
"Sellars also makes canny use of technology. Iago and Desdemona sleep on a bed made of video monitors (nicely realized by set designer Gregor Holzinger), their every move symbolically watched by all."
"Wie sie da aber so kuscheln und kosen, scheint ihrer Liebe mindestens so viel hart umgrenzte Pflicht wie grenzüberschreitende Lust zu eigen zu sein. Denn sie liegen sehr unbequem. ... Als schliefen und liebten sich Othello und seine Desdemona hier sozusagen auf den zersplitterten Bildern einer ganzen Welt ..."
FAZ Frankfurter Allgemeine Zeitung - Gerhard Stadelmaier, 15. 06. 2009
"Angefangen hat es zwangsläufig mit einem Bett. Auf einer schrägen Ebene aus Monitoren lagern sanft und zärtlich Othello und Desdemona, Hände streicheln, Beine umschlingen einander in sachter Erotik. Es ist ein Bild wie ein Lächeln, untermalt von Videos: abstrakte Zeichen, Bäume, blutige Finger. Virtuelle Realität; ein wunderbares Bild für die Wirklichkeit, die Jagos Lügen erzeugen."
WAZ - Gudrun Norbisrath, 28. 06. 2009
"Die viereinhalbstündige Aufführung hat den Gestus einer szenischen Ermittlung, einer öffentlichen Anhörung in einem Shakespeare-Untersuchungsausschuss. Man trägt die Uniformen der amerikanischen Marine oder, wie Hoffman, Probenzivil; auch die Inszenierung bewegt sich in einem Zwischenstadium, der Halbdistanz einer mal epischen, mal illusionistischen Spielweise. Im bis zur Brandmauer aufgerissenen Theater Akzent stehen Mikroständer und Klappstühle wie auf einer Probebühne. Einziges Kunstobjekt ist Gregor Holzingers riesiges Lotterbett aus Fernsehschirmen, das wechselnde Bilder zu einem metamorphotischen Lebewesen machen. Immer wieder lagern Desdemona und Othello halbnackt auf dieser kalten Bettstatt, liebkosen sich demonstrativ vor den Augen der anderen. ...
Am Schluss trennen sich die Körper von den Seelen; wie im Traum hört man die Stimmen aus dem Off, während die Schauspieler schweigend auf der Bühne stehen; es ist das furiose Finale dieser bahnbrechenden Inszenierung, die sich die Zeit nimmt, den Figuren ihre Fallhöhe zuzumessen."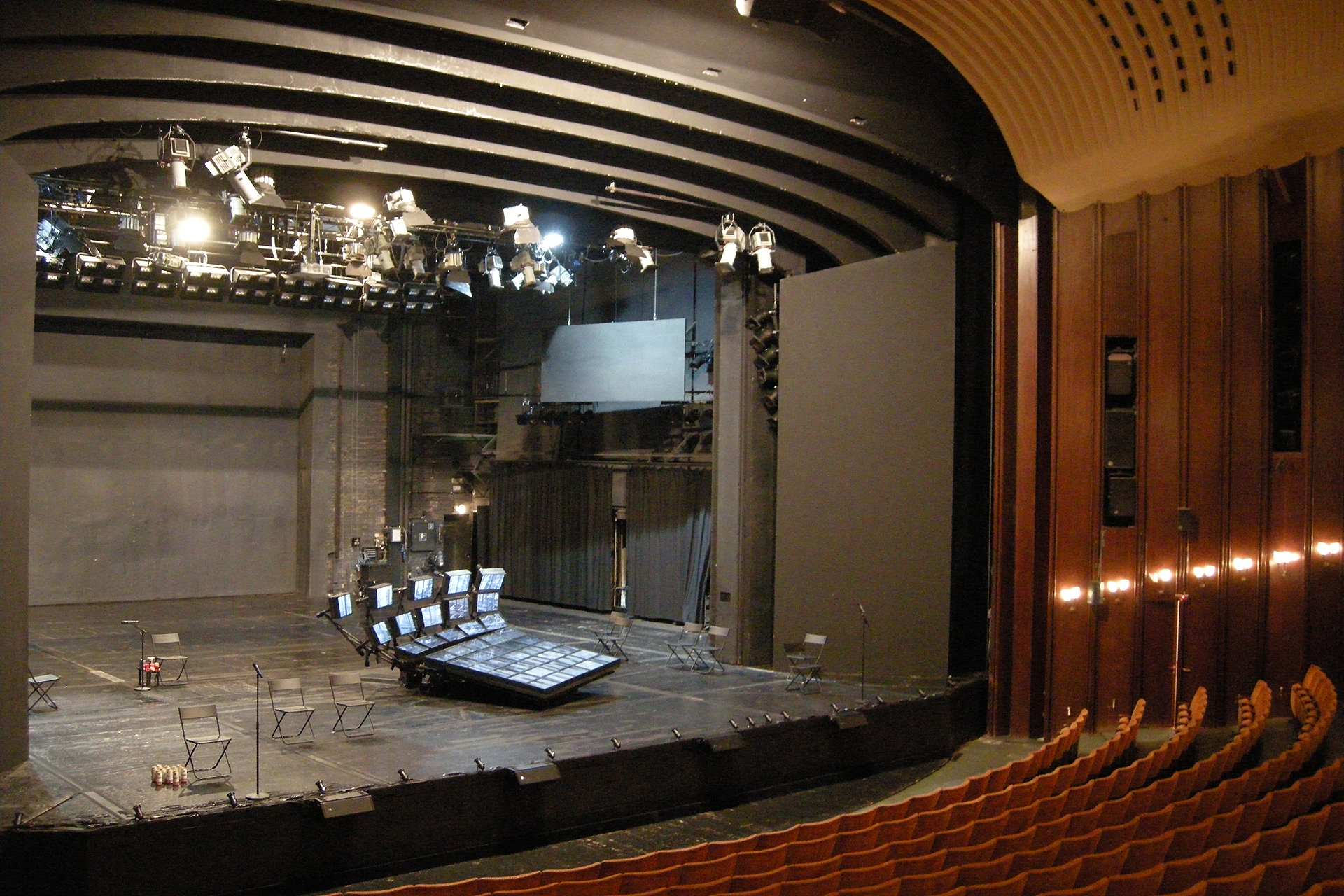 DELETED SCENES / THE BACK SIDE - back of the stage

Schauspielhaus Bochum - Dress rehearsal, 06-2009
CREDITS

'Othello' by William Shakespeare
directed by Peter Sellars

Scenic Design Gregor Holzinger
Costume Design Mimi O´Donnell
Lighting Design James F. Ingalls
Original Score, Sound Design Mark Grey
Associate Director Robert J. Castro
Dramaturgy Avery T. Willis

Roderigo Julian Acosta
Doge of Venice Gaius Charles
Desdemona Jessica Chastain
Emilia Liza Colón-Zayas
Montano Bianca Saidah Arrika Ekulona
Jago Philip Seymour Hoffman
Cassio LeRoy McClain
Othello John Ortiz


Technical Director Andreas Walter
Production Crew Stage Peter Blaselbauer, Alexander Gutsche, Tadeusz Janik
Assistance Video Design Adam Orlinski Video Operators Vienna Georg Eisnecker, Gert Tschuden
Video Operator New York Brandon Epperson